The main actors of the industry reunited to discuss on Industrial Cybersecurity.
The state of Industrial Cybersecurity in Spain
The event was held on june 20th in the conference room of Tecnicas Reunidas with an attendance of 120 individuals from every sector in the industry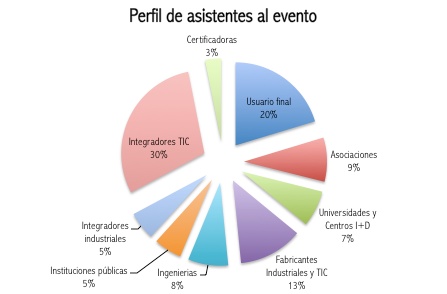 The event started with the official presentation of the Industrial Cybersecurity Center by its director Samuel Linares who stated that Spain with the help of the Center is in the way to decrease the gap in industrial cybersecurity with the United States. After three months of activity, the centre has 200 members, 23 sponsors, is present in 15 countries and has the commitment of public institutions such as CNPIC and INTECO as well as international associations as PESI, ISSA and others.
During the event it was introduced the Roadmap of Industrial Cybersecurity in Spain (2013-2018) that had the participation of many of the main actors in the industry. The Roadmap will be released on july 1st.
CNPIC and INTECO explained their view on the public-private partnership as a basic tool for industrial cybersecurity improving.
Tecnalia keynoted on the cybersecurity challenges in the Smart Grids. And presented the first training on cybersecurity for Smartgrids.
Telefónica explained the challenges for Industrial Cybersecurity service providers.
The event concluded with a round table about awareness of Industrial Cyberesecurity with the participation of Iberdrola, CEPSA, Tecnalia, Inteco, Técnicas Reunidas and Telefónica.