The Industrial Cybersecurity Center its represented in the Middle East by three internationally well-known experts: Ayman AL-Issa, Samuel Linares e Ignacio Paredes, CCI Coordinators for Middle East (CCI Coordinators Team).
Several reports and studies allow the Center to characterized the Industrial Cybersecurity madurity of the UAE - United Arab Emirates. Among them – and as analyses source of this article-, should be mentioned:
Cyberwellness Profile United Arab Emirates (de ITU)
Cyber security in the Middle East Strategy: A strategic approach to protecting national digital assets and infrastructure (de PwC)
A false sense of security? Cybersecurity in the Middle East (de PwC)
Challenging Environment Elevates SCADA Cybersecurity to the Executive Level (de Booz Allen Haminton)
Thanks to the information provided by these reports, it can be described the sensitivity level of the industrial organizations in the region, according to the following percentages: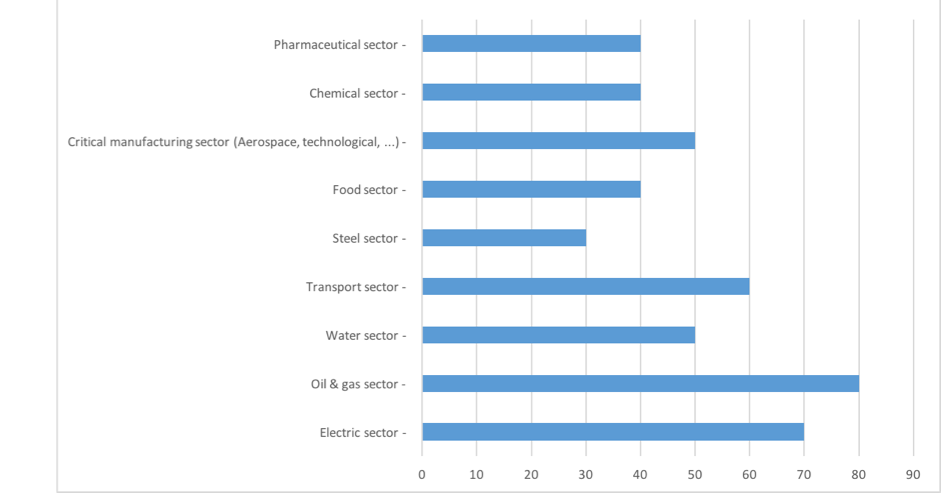 In addition, the trend in this aspect for recent years has been a slight increase.
UAE - United Arab Emirates counts with local and national public bodies promoting an adequate legal framework, in order to ensure the progressive incorporation of industrial cybersecurity measures in regional presence companies (mainly critical infrastructure). The main organizations are:
NESA National Electronic Security Authority
AECERT Arab Emirate CERT
TRA Telecommunications Regulatory Authority
Among the main national laws and regulations affecting in this context in UAE - United Arab Emirates, it should be highlighted the NESA UAE Information Assurance (IA) Standards, with the
National Cyber Risk Management Framework.
Analysing the most widely adopted industrial cybersecurity measures by United Arab Emirates organizations to protect industrial automation systems, it should be highlighted the application of:
Compliance Assessments
Industrial cybersecurity consulting / advisory
Ethical hacking
Internal security audits
External security audits
Conventional firewalls
Industrial firewalls
IDS / IPS
Backups
Log correlation
Encrypted communications
Industrial applications control
Whitelisting
Antivirus
Cybersecurity training and awareness
In conclusion, regarding the UAE industrial cybersecurity maturity level, thanks to the sources consulted (see note below), it can be characterized the industrial cybersecurity situation in this region with the following SWOT analysis:
Weaknesses




Lack of alignment between business, cybersecurity departments and suppliers


Excessive duration of the acquisition / purchase periods that slow down the agile evolution of the projects.


Lack of operational technologies certifications, processes and professionals



Strengths




Awareness, especially regarding industrial critical infrastructures


Increase of Industrial cyber security trained professionals



Threats




Extremely advanced Threat Landscape


Development of industrial applications without cybersecurity requirements


Shortage of local industrial cybersecurity professionals working for manufacturers


Shortage of specific industrial cybersecurity risk management tools



Opportunities




Strategic position in the industrial cyber security sector