Mr. Jorge Abanto, the Industrial Cibersecurity Center Coordinator in Peru (CCI Coordinators Team), helps us to get in context of the state of the industrial cybersecurity in his country, and to do so, he shares with us his impressions.
He describes the level of sensitivity of industrial organizations in his country according to the following percentages: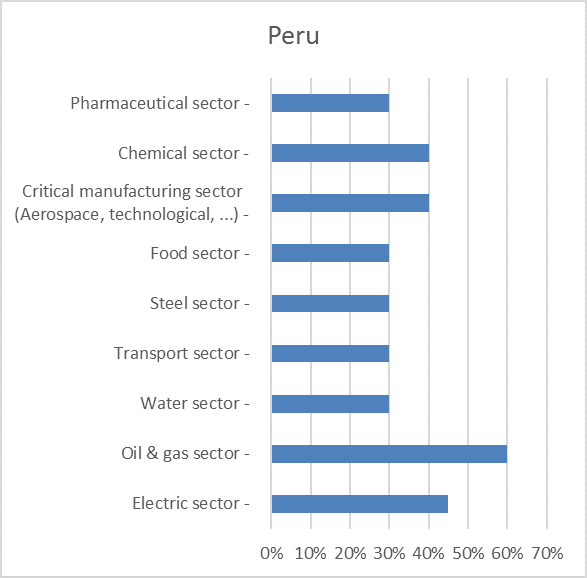 He also affirms that the trend of recent years has exponentially grown.
Peru counts with local and national public bodies promoting an adequate legal framework, in order to ensure the progressive incorporation of industrial cybersecurity measures in national presence companies (mainly critical infrastructure). The main organizations are:
GOficina Nacional de Gobierno Electrónico e Informática (ONGEI)
PeCERT
Among the main national laws and regulations affecting in this context in Peru, Jorge Abanto mentions:
Law 30096 of Computer Crimes
Law 29723 on Personal Data Protection
Cyber Security Strategy (Under development)
National Critical Infrastructure Protection Act (Under development)
Analysing the most widely adopted industrial cybersecurity measures by Peruvian organizations to protect industrial automation systems, Jorge Abanto highlights the application of:
IDS/IPS
Conventional Firewalls
Network design and architectures
Internal security audits
External security audits
Ethical hacking
Industrial cybersecurity consulting / advisory
The CCI Coordinator in Peru characterizes the industrial cybersecurity situation in his country with the following SWOT analysis:
Weaknesses




Lack of events and forums on industrial cybersecurity


Lack of operational technologies certifications, processes and professionals


Lack of specific industry cybersecurity legislation


Lack of a solutions and services catalogue of industrial cybersecurity


Lack of specific CERTs



Strengths




Increase of trained professionals in Industrial Cybersecurity


Awareness, especially regarding industrial critical infrastructures



Threats




Slow legislation


Shortage of local industrial cybersecurity professionals working for manufacturers


Application of IT security measures without discretion


High development of industrial applications without cybersecurity requirements



Opportunities




Strategic position in the industrial cyber security sector.